Live at 'The Talking Heads', Southampton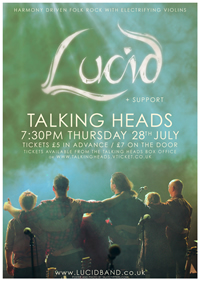 The band will be appearing at the world-renowned 'Talking Heads' venue in Southampton on Thursday July 28th. Tickets are £5 when booked in advance or £7 on the door. There will be a support band also..!
Click on the image to the right to see a larger image of the poster. And hit the button below to go to the Talking Heads website and book your tickets.
Thursday, July 28th 2016
---